Focus on the Environment: Picking Our Partners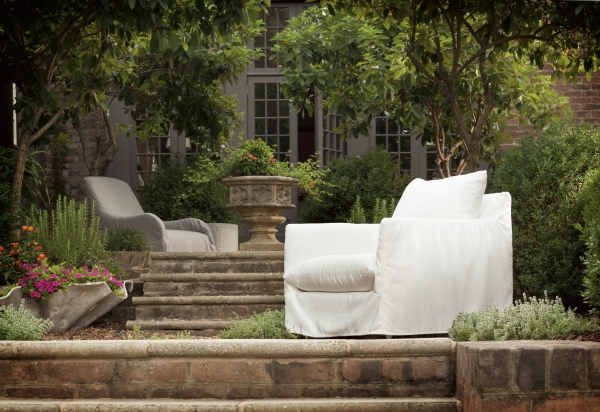 How does The Stated Home® choose who to do business with? Obviously a company has to make its furniture in America, but that's not the only criteria we look at. We also make sure we're doing business with companies that are as committed to the environment as we are.
Any company that manufactures here in America is inherently doing something good for the environment. That's because there are fewer fossil fuels being burned to transport raw material overseas and to bring the finished piece back. On top of that, there are safety and environmental regulations that govern factories in the US—those regulations are often missing or a lot less strict in other countries.
So how do we differentiate between all of the companies building furniture in the US? Membership in the Sustainable Furnishings Council is always a good sign. That shows a company has taken steps to reduce carbon emissions and water pollution and to minimize the use of materials that are non-recyclable or from unsustainable sources. But not everyone is a joiner. There are companies that are environmentally responsible, but may not belong to the Sustainable Furnishings Council.
Here's what we look for:
Quality and durability: Our desire to sell quality furniture isn't just because we want you to be happy (although that is our #1 priority!). Approximately 10 million pounds of thrown-away furniture are added to our landfills each year. They are full of furniture that was poorly made and wore out quickly. When the furniture that we sell lasts two, three or four times longer than a piece of lesser quality, then we are preventing a lot more sofas and tables from ending up in the trash.
Waste reduction and recycling: Responsible furniture manufacturers are aware of what happens to their leftover materials, keeping millions of pounds of waste out of landfills. This is where a little creativity comes in, since certain materials can be recycled into other useful products (like turning scraps of carpet yarn and latex into carpet padding or plastic bottles into beautiful polyester fiber).
Reduced energy use: The companies we love don't just make every effort to use local suppliers, but they also put their factories close to raw materials. If you build furniture using wood, it just makes sense to locate your facility near the forest.
Health awareness: New furniture in your home can impact your personal health in unexpected ways. We partner with manufacturers that avoid using harmful chemicals, like flame-retardant chemicals, and offer wood products with low-VOC finishes.
Clean water and air initiatives: Our government already has regulations in place to keep our air and water clean, so we look for companies that go above and beyond. Our manufacturing partners often have developed innovative systems that not only win awards for preventing pollution, but are so effective that they become exempt from government monitoring.
Responsible natural material choices: Trees have to get cut down if you're buying a new piece of furniture, so we partner with companies that get wood from suppliers that meet strict state and national standards for land and timber management. Here, too, they may go above and beyond. For example, our partner Lee Industries has donated over 122,515 trees for planting in American forests.
Reduced petroleum products: The foam for upholstered furniture cushions is commonly made using petroleum-based products, but anything that relies on fossil fuels can negatively impact the environment. We look for manufacturers that use soy-based products to replace some of the petroleum materials, thereby saving many gallons of crude oil (as a bonus, the soy-based products are more comfortable and durable!).
Eco-friendly core values: Actions speak louder than words. Our manufacturers show us that they genuinely care about the future of our world by continually improving their processes and policies. For The Stated Home and our partners, environmental responsibility is a way of life.