Shenandoah Wood Designs: Fine Workmanship & Materials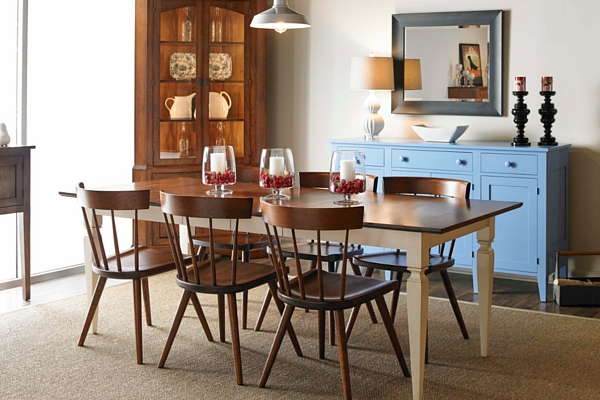 Shenandoah Wood Designs shares The Stated Home's passion for quality workmanship and beautiful materials. Each piece is made by hand just for you – there's no assembly line – and is signed by the craftsman who built it.
The company began 20 years ago when the owners purchased a small furniture manufacturer specializing in antique reproductions. With the realization that great craftsmanship shouldn't be limited to purely traditional furniture, the furniture company as it is today was born.
Award-winning contemporary design isn't the only thing that made us want to partner with this company. It has a holistic approach to furniture making and makes sure every one of its 175 employees takes a huge amount of pride in what they create. The recipient of numerous environmental, including Silver from the Sustainable Furnishings Council, and other awards, the company focuses on five tenets: raw materials, energy minimization, waste reduction, social equity, and product lifecycle. Here's a little more about those beliefs:
To start with, every piece of furniture is manufactured using locally sourced Appalachian Forest hardwoods, from suppliers that meet government requirements for responsible forest and land management.
Energy use is closely monitored and frequent upgrades are made to enhance efficiency. For example, in 2014, the entire facility was converted to LED lighting, reducing overall electrical usage by 25 percent.
From wood to water to AA batteries, everything coming into and going out of the facility is tracked to assure that all materials are used wisely and disposed of properly. Scrap wood and sawdust fuel the boiler and the innovative storm water management system is so effective that it is exempt from state monitoring.
Recipient of the West Virginia Governor's Safe Workplace Award, the company operates a facility with incidence rates well below industry norms. It is also a major supporter of the community, focusing its efforts on children and education.
It manufactures beautiful solid-wood furniture that will last in excess of 50 years—much longer than products constructed from plywood or other engineered wood material. And since it's made from natural materials, when a piece's life eventually ends, no toxins are released into the environment.